Shrimp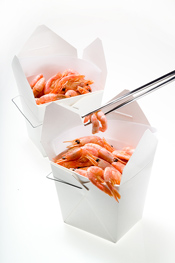 Northern Shrimp, Pink Shrimp, Coldwater Shrimp

Pandalus borealis, P. montagui, P. jordani



Distribution and Seasons
Pink coldwater shrimp are one of the most important commercial species of shrimp in the world. Plentiful in most northern waters, in Canada, P. borealis and P. montagui (in small quantities) are found in the East as far north as Baffin Island and as far south as the Flemish Cap. P. jordani (a relative of P. borealis so close that the taste and texture of the meat is practically indistinguishable) is one of about 85 varieties of coldwater shrimp found on the West Coast of Vancouver Island from Queen Charlotte Sound south.
The East Coast shrimp fishery has both an inshore and an offshore component. Inshore boats fishing in the Gulf of St. Lawrence, on the Scotian Shelf and off northwestern Newfoundland deliver fresh and frozen shrimp to shore plants for cooking and peeling. The offshore fishery is prosecuted by large factory ships capable of cooking and freezing shrimp within minutes of harvest. West Coast shrimp are fished close to shore by one-man beam trawls, otter trawls or traps. Most are day boats with a few larger vessels fishing for three days at a stretch.
Fresh shrimp (either variety) are available from April through November. Frozen shrimp in a variety of different product forms are plentiful year round.
Management
On the East Coast, the responsibility for shrimp management is divided among three fisheries regions: the Maritime Region (where fishing is concentrated on the Eastern Scotian Shelf), the Laurentian Region (the Estuary and Gulf of St. Lawrence), and the Newfoundland Region (which stretches from the northeast coast of Newfoundland up to the Davis Strait and Baffin Island).
Resource management tools include limits on the number of licenses and size of vessels used, minimum mesh size, use of a Nordmore separator grate, a Total Allowable Catch (TAC), and mandatory dockside monitoring of all inshore landings. For the offshore fleet of factory freezer trawlers, the TACs are divided into Enterprise Allocations or individual company quotas. All vessels in the offshore fishery must also have independent observers onboard at all times. On the West Coast, area quotas and licence requirements control the catch.
The introduction of the Nordmore grate to the Atlantic shrimp fishery in the early 1990s revolutionized the industry as it reduced, and in some cases, all but eliminated, groundfish bycatches and allowed the fishery to expand to its full potential. Invented in Norway, the Nordmore grate is a rigid grate set within the trawl that directs fish toward an "escape" opening at the top of the net, while allowing shrimp to pass into the codend.
On the East Coast, industry participants and government have also agreed on a principle of stakeholder priority. All allocations since 1997 have been issued on a temporary basis. Should there be a decline in the abundance of the resource in the future, temporary participants would be removed from the fishery in reverse order of gaining access (i.e., last in, first out).
Description
Shrimp are crustaceans, like lobster and crab. They possess a hard outer shell (exoskeleton) and must shed this shell in order to grow. Coldwater shrimp are protandric hermaphrodites, that is, they undergo a change of sex in mid-life, starting out as males and then becoming females in their fourth year.
Northern pink shrimp are much smaller than their Penaeid or tropical cousins, averaging 5-10 cm in length. A lot of flavour is packed into a small package, however. Coldwater shrimp have a sweet, delicate taste and are generally considered more flavourful than warmwater varieties. Live, the tail of the northern shrimp is more red than pink. Cooked, the shell is pink and the meat is an opaque white tinged with pink. The meat is firm and crisp in texture, and more moist than tropical shrimp. Once out of the shell, P. borealis and P. jordani are indistinguishable; P. montagui is a smaller striped shrimp that is often caught with P. borealis. The montagui is a lower-value product, lacking the vibrant shell colour and crisp texture of the borealis.
Nutritional Profile (per 100 grams or 3.5 oz. cooked meat)

| | |
| --- | --- |
| Energy | 91 kcal or 380 kj |
| Protein | 18 g |
| Carbohydrates | 2 g |
| Fat | 1 g |
| Calcium | 63 mg |
| Sodium | 140 mg |
| Potassium | 200 mg |
| Cholesterol | 152 mg |
Product Forms
Coldwater shrimp are readily available fresh in coastal markets, but because they are fragile and relatively perishable, most shrimp is sold frozen in a variety of commercial product forms:
frozen block whole (raw or cooked)
frozen block peeled (raw or cooked)
frozen IQF (Individually Quick Frozen) - raw or cooked
canned, in brine
smoked
in prepared dishes such as soups, bisques and salads
Factory freezer vessels process their catches at sea to maximize product quality and value. The largest shrimp are uncooked, individually quick frozen, and packed in 1-kg boxes primarily for the Japanese market. Mid-sized shrimp are cooked, individually quick frozen and packed in 5-kg boxes primarily for the European market. The smallest "industrial" shrimp are frozen and shipped to peeling plants in Europe, Newfoundland, Nova Scotia, New Brunswick and Quebec.
Commercial Size (number of shrimp/kg or lb)

| | | |
| --- | --- | --- |
| | Metric/kg | Imperial/lbs |
| Extra large | 78-110/90-125 | 36-50/41-55 |
| Large | 125-200 | 55-90 |
| Medium | 200-300 | 91-140 |
| Small | 300-400 | 140-190 |
| Salad | 400 | 190+ |
Preparation
Canadian coldwater shrimp have a unique flavour that makes them perfect in any number of applications. The "peel and eat" product, preferred in Europe and Scandinavia, is gaining popularity in North America. But these sweet shrimp are also perfect sprinked on salads, piled high on sandwiches, incorporated into all make and manner of sauces and stuffings (especially tasty when used with chicken or fish fillets), served on crackers as appetizers, as ama-ebi for sushi, on pizzas or wraps, in omelettes or quiches, soups or bisques, paella or bouillabaisse.
Northern pink shrimp is usually sold cooked and will toughen and lose flavour if subjected to too much heat during preparation. Unpeeled shrimp should be added to boiling water and removed as soon as water returns to a rolling boil. Peeled shrimp should be incorporated directly into casseroles or quiches baked in the oven. For dishes prepared on the top of the stove, shrimp should be added to hot preparations, reheated quickly and served.
Safety and Wholesomeness Assured
Canada has one of the world's most respected fish inspection and control systems. The Canadian Food Inspection Agency (CFIA) sets the policies, requirements and inspection standards for fish products, federally registered fish and seafood processing establishments, importers, fishing vessels, and equipment used for handling, transporting and storing fish. All establishments which process fish and seafood for export or inter-provincial trade must be federally registered and must develop and implement a HACCP-based Quality Management Program (QMP) plan. A processing establishment's QMP plan outlines the controls implemented by the fish processor to ensure that all fish products are processed under sanitary conditions, and that the resulting products are safe and meet all regulatory requirements. Canada's fish-inspection and control system contributes to Canada's worldwide reputation for safe, wholesome fish and seafood products. Buyers can be assured that seafood from Canada will continue to meet the increasingly rigorous safety and wholesomeness standards required by the world's major seafood markets.
Suppliers
NOTE: These processors are volume wholesalers and are not usually set up to deal directly with consumers.
List of Canadian shrimp suppliers
Related Sites
Date Modified: