Coffee and Tea Industry Trends from the Canadian Coffee and Tea Show
October 2011
The Government of Canada has prepared this report based on primary and secondary sources of information. Readers should take note that the Government of Canada does not guarantee the accuracy of any of the information contained in this report, nor does it necessarily endorse the organizations listed herein. Readers should independently verify the accuracy and reliability of the information. This report is intended as a concise overview of the market for those interested in its potential and is not intended to provide in-depth analysis which may be required by the individual exporter. Although every effort has been made to ensure that the information is correct, Agriculture and Agri-Food Canada assumes no responsibility for its accuracy, reliability, or for any decisions arising from the information contained herein.
Please address any comments or suggestions you have on this report to: infoservice@agr.gc.ca
Introduction
The Agri-Food Trade Service (ATS) attended the Canadian Coffee and Tea Show, the only national show for the coffee and tea industry showcasing the latest products and trends from around the world, held from October 2nd to 3rd, 2011 at the Vancouver Convention Centre in Vancouver, British Columbia. The show attracted over 140 exhibitors and a wide range of attendees from chain retailers to restaurateurs, foodservice operators, distributors, and buyers. Exhibitors present at the show included both Canadian and international companies from countries, such as Mexico, China, India and Indonesia. The trade show also featured an educational program with business roundtables, workshops and sessions, as well as competitions, such as the Canadian Barista Championship, Canadian Cup Taster Championship, Latte Throwdown and So You Think You Can Be a Tea Sommelier competition.
Highlights from the Canadian Coffee and Tea Show
Trends in the Canadian coffee and tea industry as seen at the show paralleled global market trends whereby consumers are demanding value-for-money products and small affordable luxuries in the face of global economic uncertainty. Premium and specialty products with attractive product presentation were emphasized at the show, as well as single serve and individualized beverages, which are growing in popularity and valued for their uniqueness, convenience and portability.
At a workshop on blended beverages, coffee and tea industry professionals at the show discussed how the industry was branching out and developing new upscale products, such as coffee and tea based smoothies and frappes. Additionally, the coffee and tea industry is responding to consumer demand and introducing a variety of flavours and styles to suit their individual preferences. Sustainability, origin of product, and cause-related products, e.g. fair trade certification with international bodies such as Rainforest Alliance, are considered equally important for consumers and were also highlighted at the show. Sustainability also extended to packaging, utensils and containers supplied to consumers and companies specializing in these products were also seen at the show.
Coffee
The dedication of a trade show solely to coffee and tea highlights the huge potential of this beverage segment in Canada. Coffee is the most popular hot beverage in Canada with a total of 14 billion cups consumed annually. An estimated 64% of Canadians drink coffee each day, which is equivalent to 6.8 kilograms of green coffee or 12.7 pounds of roasted coffee per capita, with 86% of adult coffee drinkers consuming the beverage in the morning or for breakfast. Coffee is also the top beverage in the Canadian foodservice category. Canada has a highly developed away-from-home coffee market and is second only to Italy in highest percentage of total cups of coffee consumed outside the home.
The trend seen at the show of individualized espresso-based drinks showed that consumers are no longer satisfied with drinking brewed coffee. Other consumer demands include information on origin/source, and locally grown, fair-trade, organic, and green coffee products. The coffee industry has been quick to respond to this lucrative market, worth approximately $650 million a year in Canada, with many products exhibited at the show meeting these consumer demands.
A session providing coffee industry updates at the show discussed how decaffeinated coffee has been losing its negative appeal in recent years, thanks to the growing senior population in Canada that cannot intake caffeine but still enjoys consuming coffee. Coffee is an age-driven rather than a gender-driven industry. It is the second most consumed beverage, after water, by people 25 and older, and the top beverage of choice for adults, especially those in the 25 to 49 age group. The greatest consumption of coffee is found in the 50+ age group, and the least is those in the 18 to 24 age group. While the younger generation has a wide range of beverage choices, the older generation grew up having access mainly to coffee and few alternatives. Barriers to the youth market include their dislike in the taste of coffee, hesitation to consume coffee because they feel they are too young, and concerns that caffeine could be dangerous to their health. Therefore, decaffeinated coffee products are a growing market that remains underrepresented.
While Canada's climate does not allow for coffee or tea production, Canadian companies import vast quantities of raw coffee and tea for further processing and sale in the domestic market, as well as for re-exporting. The top ten leading coffee producers include Brazil, Colombia, Ethiopia, Vietnam and Indonesia. Canada is one of the top ten leading import markets for coffee, importing $5 billion worth of coffee products, surpassing traditional markets, such as the United Kingdom (UK), Japan, France and the United States (U.S.). Coffee and tea represent 1.1% of total food and beverage sales of manufactured goods in Canada. Canada is particularly successful in exporting value-added coffee products, particularly to the U.S. Emerging markets in Eastern Europe and North Africa are seeing a growth in coffee consumption due to a growing middle class workforce and adoption of a structured "9 to 5" work culture providing opportunities for Canadian exporters.
Tea
Greater health consciousness among consumers has led to a move away from soft drinks and into alternative beverages that are tasty and flavourful, yet healthy. In addition to coffee, tea was also heavily featured at the show, with numerous workshops and sessions on the tea industry and tea cupping techniques. Teas, both hot and iced, have become popular in all establishments and continue to see growth. Tea is the fifth most popular beverage in Canada with 10 billion cups of tea are consumed by Canadians each year, which is equivalent to approximately 300 cups per person.
At an industry update session held by the Tea Association of Canada (TAC), the latest tea trends were shared with show attendees. Black tea continues to dominate the market, green and white tea have seen tremendous growth as they are said to possess antioxidant properties, reduce cholesterol levels and increase metabolism. Herbal tea is also popular among consumers. Broken down demographically, green tea is most popular among those 34 and under, black or flavoured tea is favoured by females, and herbal teas are popular among females who are 34 and under. Black teas are traditionally favoured by older consumers. Tea consumption across Canada differs by region with those in Atlantic Canada having traditionally been heavy tea drinkers. Specialty teas dominate the Western Canada market. Elsewhere in Canada, consumers prefer a mix of regular and specialty teas.
TAC also highlighted the growing consumer interest in high quality, specialty and premium tea. Specialty upscale teas currently make up 60% of total tea market share in Canada, showing that customers are willing to pay more for premium products. These include herbal, herbal rooiboos, yerba maté, white, green, black, specialty black, and specialty flavoured teas. Innovative flavoured fruit teas are also gaining prominence with flavours including vanilla, honey, raspberry, and blackberry.
Exotic spiced teas, such as chai, are also increasing in popularity and appeal to the consumer's desire for adventure. At a presentation on chai tea at the show, attendees learned that chai is the fastest growing product in the tea category and a popular coffee alternative. The market is 80% female, 35 and older, often married with children, well educated, and with above average income. Chai can be found in many different forms: syrup, latte mixes, herbal versions, liquid concentrates, and individual tea bags. Chai is also offered in dairy and non-dairy/vegan format. To appeal to a wider audience, chai producers are also diversifying into different seasonal flavours e.g. pumpkin, peppermint, cider, and egg nog chais, and experimenting with new pairings, such as chai and espresso, caffeine-free chai, and chai frappes.
Tea imports to Canada are predominately black tea, at 81% of total tea imports. Canada imports from major tea producers, such as India, Sri Lanka, Kenya, China, UK and the U.S. The UK is a major import source of black tea for Canada. Major import sources for green tea include the U.S., UK, China, and Japan. While the UK and U.S. are mainly engaged in the value-added process, India, China and Japan are major green tea growers.
Other tea trends highlighted at the show include iced teas, ready-to-drink teas, tea in cooking or cocktails, tea for health and beauty purposes (green tea, for example, is promoted as a powerful antioxidant), and cause-related tea, e.g. fair trade. Specialty iced beverages are especially appealing to younger consumers. The development of tea equipment and improved packaging, e.g. handmade and loose leaf tea bags, have also enhanced the appeal of tea to consumers.
The growing popularity of tea has not only boosted at-home consumption, but has also translated to increased tea sales in foodservice as evidenced by the rise in tea houses. Although there has been a slight decrease in tea sales in Canada in the grocery retail category, foodservice sales of hot tea have increased, being the fastest growing beverage in the foodservice category ($380 million in 2010). This is important as foodservice plays a large role in introducing new types of tea to consumers, with the added effect of boosting tea sales in the grocery retail category.
Upscale Independent Café Culture
The rise in away-from-home consumption has led to coffee and tea being sold not only in the quick service market but also at more upscale foodservice establishments as seen by the emergence of independent upscale cafés. The consumer demand for luxury has subsequently led to the rise in barista culture and use of specialized equipment to create that perfect personalized luxury drink, with particular emphasis on using local, high quality, and gourmet ingredients. Reality television and the "Food Network Effect" has further fuelled this trend, encouraging ordinary consumers to develop a more discerning and demanding palate. Use of buzz words, such as coffee "connoisseur" and tea "sommelier", highlight the growing trend towards converting what was once considered a beverage for the quick service category or at-home consumption to a more fine-dining setting. Many exhibitors were clearly aware of this trend and many products on display at the show corresponded with the trend towards premium high quality beverage concoctions. The Canadian Barista Competition at the trade event gave Canadian baristas a platform to demonstrate a variety of espresso-based beverages with the winner being given the opportunity to go to Vienna for the World Barista Championships.
Upscale tea houses, where tea beverage preparation is considered a form of artistry, have also popped up across Canada. Currently, 50% of tea consumption in foodservice occurs in the fine-dining segment. However, there is opportunity to promote tea in all foodservice segments. Indeed, 71% of tea drinkers have stated that they are more likely to order if assured they will be served consistently good tea. Otherwise, 31% will instead order tap water. The challenges for the tea industry include limited top of mind awareness, tea offered at foodservice outlets is often of poor quality, with few selections and poorly executed, such as tea being served in a badly designed cup or tea pot.
Independent upscale café culture is thriving but faces competition from chain retailers. Well known global coffee and tea house chains include Starbucks, while Canadian chains include Teaopia, Blenz Coffee, Caffe Artigiano, David's Tea, Timothy's Coffees of the World, and Second Cup. These cafés emphasize the store experience to complement the product offerings, such as upscale furnishings and layout, and holiday and seasonal decorations.
While away-from-home consumption has been growing in Canada, at-home consumption remains popular. There are many options for at-home consumers to choose from, ranging from pre-ground to instant coffee, whole coffee bean, single serve pod/cartridge, and fine powder-instant coffee. Trends show that there is growing awareness of single cup brewing for at-home drinkers, which allows them to recreate the higher quality individualized artisanal coffee-drinking experience that is now found in foodservice establishments.
Quick Service Premium Coffee
The quick service coffee market in Canada is currently estimated at $3 billion and continues to grow. In 2010, Canadians consumed 1.5 billion cups of coffee from quick service establishments. Quick service restaurants and fast food chains have been quick to recognize the potential of the upscale premium coffee market and are aggressively diversifying their coffee offerings to include more sophisticated beverages, in addition to drip coffee.
For example, McDonald's recently launched its line of espresso beverages at McCafés across Canada. McCafé is a more upscale foodservice line that can be found operating as a separate counter/section at regular McDonald's restaurants, selling specialty coffees, such as lattes and cappuccinos. Tim Hortons also recently announced the introduction of specialty espresso-based coffee beverages to compete with existing coffee and tea houses. McDonald's is investing over $1 billion to have 1,400 McCafés set up across the country by 2012, while Tim Hortons will see espresso-based beverages introduced in over 80% of its locations by the end of the year.
Flavour Variations
Another trend apparent at the trade event was the introduction of a variety of preparation styles and flavours to meet the demand for high-end customizable beverages. Popular coffee flavours include chocolate, caramel, vanilla, and mocha. Inspiration from desserts or candies has led to flavour innovation and flavours seen at the show include banana pudding shake, red velvet frappe, and different fruit and chocolate combos. The rise in urban cafés and greater ethnic diversity in urban areas have influenced the flavours being offered, such as coconut and mango, in addition to popular flavours, such as strawberry and raspberry.
Complementary Products
Dairy and Non-Dairy Alternatives
Milk and cream are often associated with coffee and tea. However, as highlighted at a session on dairy products at the show, there are additional opportunities for dairy, such as the use of yogurt in smoothies, flavoured milk and cream in coffee and tea beverages, and flavoured whipped cream toppings on hot drinks. Riding on the health and wellness trend and capturing the aging Canadian/baby boomer market, the presenter at this session suggested that coffee and tea industry professionals can highlight the health benefits of dairy to market their beverage. For example, coffee bars can market a coffee as a calcium cappuccino.
Non-dairy products have also become equally popular for health and dietary reasons with soy, almond, and rice beverages acting as dairy substitutes. Coconut milk is a newcomer to the non-dairy market that was highlighted at the session. Consumers that choose non-dairy alternatives tend to be younger, with higher income, and larger households with kids younger than six. They choose non-dairy products for reasons including desire for variety, nutrition factor, self-improvement, eco-consciousness, taste preference, health, and it is often a conscious choice.
Popular non-dairy beverage brands include Natura, So Good, So Delicious, So Nice, Almond Fresh, and Ryza. To target the foodservice category, non-dairy beverage makers have also introduced products such as ready-made soy latte mixes and non-dairy creamers. The non-dairy trend was also evident at the CHFA Expo East 2011 trade event that ATS also attended where these non-dairy beverage products were heavily marketed and promoted.
Sweeteners
White sugar and honey are the most popular choices to add to coffee and tea beverages. However, sweeteners are often not offered to customers by foodservice personnel even though over 60% of consumers would like this option. Having these complementary products available can motivate consumers to make the decision to purchase a coffee or tea product and thus drive sales. Canadian honey producers may wish to increase their marketing outreach to the coffee and tea industry to grow their market. Brown sugar can also be offered to customers as an alternative.
Non-Traditional Preparations
There is growing awareness among coffee and tea industry professionals that many other ingredients and products accompany and enhance the industry and can be leveraged in a wide variety of settings. In addition to traditional hot coffee and tea beverages, foodservice operators are incorporating smoothies, frappes, and cocktails into their product offerings to maximize profits and these beverage products were also prominent at the show. These products are especially popular with the younger demographic between the ages of 18 to 24.
Coffee and Dessert Pairing
While mealtime pairings of food and drink, such as wine and cheese, red wine and red meat, white wine and fish, are common, there is potential for food and drink pairing in the dessert category. Offering an end-of-meal featured pairing between coffee and dessert is growing in popularity and seen as a way to drive sales. According to Sara Lee Food Service, 81% of operators believe a dessert and coffee pairing can increase their sales, and 69% of operators would consider adding coffee to the menu; marketing a dessert and coffee pairing to customers. Similar to food and wine pairings, a lighter coffee is recommended for lighter desserts, dark coffee for richer desserts, while rich, high-fat or tart desserts go well with high acidity coffee, and mellow desserts go well with lower-acidity, smoother coffee (Sara Lee Food Service Dessert Alert).
Blended Drinks/Smoothies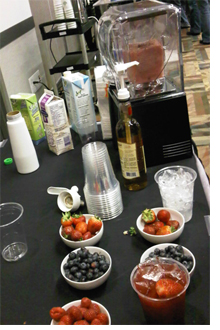 One of the most popular blended drinks is the smoothie. Popular blends include fruit and yogurt, as well as coffee-based shakes. The blended drink category is one of the fastest growing beverage segments, driven by the rising trend in health and wellness, with low start up costs and minimal investment in equipment. While previously a quick service staple and a popular menu item for kids, it is beginning to infiltrate the casual dining category. With US$2.5 billion dollars in annual sales in the U.S. according to Mintel, this is a product worth considering in the coffee and tea industry for its business potential.
At a workshop on blendable beverages, the presenter highlighted the fact that presentation is very important, and attention to decorations and garnish, such as flavoured whipped cream, chocolate/cinnamon toppings, chocolate/caramel drizzle, and multicoloured straws, can have a huge impact on sales.
In major urban Canadian cities, such as Montreal, Vancouver and Toronto, where there is huge ethnic diversity, consumers can find both traditional coffee and tea products and non-western style coffee and tea offerings, e.g. bubble tea shops serving coffee and tea frappes and fruit flavoured shakes. While this trend was not showcased at the trade show, the rise in New Canadian cuisine across Canada has also greatly influenced the variety of coffee and tea product offerings and is a niche market to consider.
Coffee and Tea Cocktails
As detailed at a workshop on coffee and tea cocktails at the show, some espresso bars are expanding the coffee and tea market into alcoholic beverages by introducing coffee and tea cocktails in the late afternoon/evening to boost their business revenue. Restaurants and bars are taking note of the rise in coffee and tea consumption and incorporating coffee and tea ingredients into their alcoholic beverage selection as well. Whether it is having a coffee at a coffee house or consuming alcoholic drinks at a bar, these activities tend to be social and highlight the trend in social eating, where people get together day or night to have good food and drinks with good friends. Coffee and tea cocktails therefore combine the best of both worlds.
While female consumers tend to be more experimental with cocktails, men tend to be less adventurous and prefer less fruity drinks. Therefore, coffee and tea cocktails, such as an espresso martini, can offer additional appeal to male consumers and encourage them to explore new beverage selections. Adding alcohol into a frappe to create a blended alcoholic beverage is also a take on the smoothie/blended drink trend seen at the show. While fruity flavours remain popular, emerging flavours include chocolate and mocha, influenced by the rise in coffee shop frappe and iced coffee drinks.
Conclusion
The Canadian Coffee and Tea Show offered visitors a good selection of exhibits and highlighted a wide range of innovative and diverse products that cater to the coffee and tea industry. Coupled with the informative workshops and sessions, the event provided a good overview of the industry in Canada and trends to watch for in the future.
Additional market information on the Canadian Tea Industry and the Canadian Coffee Industry can be found on the Agri-Food Trade Service Beverages web page.
Useful Links
Canadian Coffee Association
www.coffeeassoc.com
Canadian Tea Association
www.tea.ca
Your Foodservice Manager Online
www.yfmonline.ca
Sara Lee Foodservice Dessert Alert
www.rudysfarm.com/~/media/Files/pdfs/Dessert.ashx
Date Modified: